Last Updated on February 7, 2023 by Jeremy
Disclaimer: Our site uses demographic data, email opt-ins, display advertising, and affiliate links. Please check out our Terms and Conditions. Pricing, operating hours, or menus may have changed since our initial visit and may not be reflected in subsequent updates. Please confirm these directly with any business or attraction prior to visiting.
Are you looking for a gift for a Pittsburgher? It is no secret that we all love this city, so why not pick up a Pittsburgh inspired gift that is sure to wow them!
In this guide we are sharing 10 gift themes that focus on all things Pittsburgh. Within each theme we have featured multiple different ideas to hit all interests, gift types, and budgets. So go beyond a restaurant gift card and impress your favorite Pittsburgher with one of the below!
Note: This article contains gift ideas for all budgets. Recommendations are as low as a $10 Pittsburgh novelty or book, a $20 shirt, and can be as expensive as a $100+ ski pass or $200 Steelers ticket. We wanted to give a range of ideas in this one and as such prices run the full spectrum.  
1. Museum Memberships and Gifts
From the Carnegie Museums to the Warhol, the Mattress Factory to the Children's Museum, and the iconic Phipps Conservatory, Pittsburgh is home to a world class museum scene.
If your gift recipient is a patron of the arts, how about giving them a year long membership to one of their favorites so they can go any time of the year?
Local museums offering memberships include the following (2022 rates shown):
Or if a museum membership is a bit much, why not pick up a themed gift from one of the gift shops, like "Isalys Chipped Ham, Klondikes, and Other Tales from the Behind the Counter" from the Heinz History Center, a Warhol-inspired gift from their on-site shop, and more!
2. An Edible Gift Pack from the Strip District
Planning a shopping trip to the Strip District? Why not assemble an edible gift back from some of the Strip District's most popular spots!
Grab some chocolate from Mon Aimee Chocolat, a PA spirit from local distillers Wigle Whiskey/Maggie's Farm Rum or regional curator Pennsylvania Libations, a selection of dried meats from Parma Sausage, cheese from Penn Mac, tortillas from Reyna's, popcorn from Pittsburgh Popcorn Company, or biscotti from the Enrico Biscotti Company to name a few!
This one is perfect for gift recipients who no longer live in Pittsburgh and are pining for their favorites!
Prices range from as low as $5 to as high as $50+ per item. Some refrigeration may be required.
Or if you're looking for something a bit different, Penn Mac offers a cheese of the month club to keep the gift going for many months!
3. Pittsburgh Shirts
We are big on representing Pittsburgh in our clothing choices, and the city has no shortage of great designs available.
Local producer, Steel City, makes some rather epic Pittsburgh gear in classic and modern styles.
Independent artisans share their amazing shirt designs on Etsy and Amazon, and official jerseys can be picked up for the next big game at the MLB, NFL, and NHL stores.
Prices per item range from approximately $20 to $100+.
Looking for more Pittsburgh shirts? Check out the amazing designs available on Etsy and Amazon!
4. Pittsburgh Books
We absolutely love reading books about our great city, and there is no shortage of titles out there for those who want to dive into the region's rich history. For the ultimate Pittsburgh tome, we highly recommend Pittsburgh: The Story of an American City as this nearly 800-page book covers Pittsburgh's rich history up until the late 1990s. (This one is a great coffee table book, too!)
For those who love a good drink, Pittsburgh Drinks is one part history book and one part cocktail recipe book and does a fantastic job bringing Pittsburgh's drinking culture to life. Well, if you have the spirits to remake the cocktails at home, at least!
If you are looking for something diving into how Pittsburgh became the Steel City, Meet You in Hell is one of the highest regarded books about the business partnership between Carnegie and Frick that ended in a bitter rivalry.
Or if your gift recipient is an avid hiker, we recommend the duo of 60 Hikes in 60 Miles – Pittsburgh and Waterfalls of Pennsylvania which will keep them busy for weeks on end. These are two phenominal books for places to explore both close to home and all over the state.
Prices range from $10 to $20 per book.
Looking for more Pittsburgh books to give as a gift? Click the previous link to read some of our favorites!
5. Take a Class to Pick Up a New Skill
Pittsburgh is fortunate to be home to several businesses and institutions designed to help teach you a new skill, and many of these make great gifts!
There are food courses, like themed lessons at Chop, Wok, and Talk or Sweetwater Center for the Arts. Glass blowing lessons at the Pittsburgh Glass Center. Art lessons at the Society of Contemporary Craft. Dance lessons at a number of local dance studios. The list goes on and on!
Prices range from under $20 to $75+ depending on the course.
Looking for a tour of a local business instead? There are Pittsburgh beer tours, wine tasting opportunities, and food tours available as well!
6. A Trip to the Laurel Highlands for Outdoor Activities
If you have bigger plans for your gift recipient, why not treat them to a trip down to the Laurel Highlands?
For those who want to plan a summer venture, the resorts of Seven Springs and Nemacolin Woodlands have many amazing things to do including hiking, clay pigeon shooting, spa packages and so much more.
In the winter, Seven Springs is home to a stellar ski resort with many runs and snow tubing, Nemacolin has dog sledding opportunities, and two other ski resorts (Hidden Valley and Laurel Mountain) offer great opportunities to get out on the slopes as well! This gift could be done as a day trip or coupled with an overnight at one of the resorts for a longer trip!
Activities at the resorts range from roughly $25 for a weekday tubing session to $100+ for dog sledding, lift tickets with rentals, and more.
7. A Night on the Town
Looking for stay a bit closer to home with your gift and want a night out on the town? Plan a night on the town in Pittsburgh instead! Sometimes the best gift is heading out to a Pittsburgh restaurant, having a drink at a bar or local Pittsburgh brewery, and enjoying an evening carefree (and for others, kid free)!
For hotel options, we recommend the Embassy Suites Downtown Pittsburgh as its location on the upper floors of the Oliver Building downtown offer prime views you won't get anywhere else. If you're looking for another angle of the skyline during your stay, the premium river view rooms at the Sheraton Station Square offer some of the best skyline views you'll ever get.
A perfect way to end the night on the town!
Pittsburgh hotel rooms start at $150+ per night typically. Evening plans can range in all budgets based on how you plan!
8. A Pittsburgh Canvas Prints and Wall Art
One Pittsburgh gift idea we love to buy for friends, especially when they buy a house, is unique Pittsburgh wall art from Etsy. Local artists have created an array of beautiful prints for your home or office from novel takes on the Pittsburgh skyline to more obscure like the coffee break print illustrated above!
If you are looking for more traditional photo prints, some of our favorite photographers like Dave DiCello, Carla Cardello, and Dustin McGrew sell prints online, and we also sell our own favorite photos on our photography store at Fine Art America. Click here to check out our current line up!
Prices can range as low as $10 for 5×7 prints to as much as $200+ for multi-foot sized canvas prints. Image sourced via Etsy.
9. Event Tickets
From our three sports teams to many concert and performing halls, it is safe to say that there is an event going on in Pittsburgh just about every night of the year!
So rather than giving your loved one a tangible gift, why not give them an experience they'll never forget be it a Steelers or Penguins game, a performance from a world class musician, a night out at the Pittsburgh symphony, or simply a performance in an intimate venue in South Side (like Club Cafe)?
Check out upcoming show lineups at Ticketmaster, StubHub, or the Pittsburgh Cultural Trust to get some ideas!
Prices can range from as low as $10 to as high as $200+ per ticket depending on event, date, and seat location.
10. Pittsburgh Novelties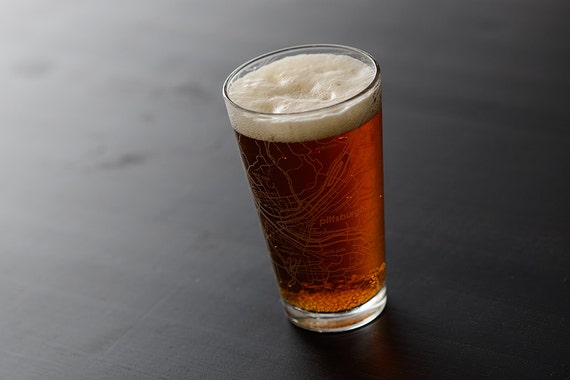 Does your gift recipient have a bit of a goofy side? Perhaps a Pittsburgh novelty is in order!
There are many amazing products out there featuring Pittsburgh logos as well as our iconic skyline, and they make perfect gifts! Whether you're looking for Pittsburgh pint glasses, Pennsylvania state push-pin map, city coloring books, a Pittsburgh photography puzzle, and so much more.
In fact, you could go down the rabbit hole of novelties on just Etsy alone and find some pretty amazing products.
Prices for novelties can range as low as $5 to $50+. Image sourced via Etsy.
Have a recommendation for other Pittsburgh gifts to give (or receive)? Comment below to share them!
Pittsburgh Discounts and Promotions
In the mood for a sale? Or perhaps you simply want to try out something new? Check out our latest Pittsburgh promotions below!
Get 10% off clothing from Steel City using code: DISCOVERTHEBURGH
Grab discounted tickets to
Kennywood
,
Sandcastle
, and
Idlewild
!
Take 10% off orders from Strip District-based Colombino using code: DISCOVERTHEBURGH
Order a local food box from
Harvie
and take $25 off your first order on us!
Are you a local business that would like featured? Get in touch here!