Published by Jeremy. Last Updated on February 10, 2023.
Disclaimer: Our site uses demographic data, email opt-ins, display advertising, and affiliate links. Please check out our Terms and Conditions. Pricing, operating hours, or menus may have changed since our initial visit and may not be reflected in subsequent updates. Please confirm these directly with any business or attraction prior to visiting.
While we would say that the Pittsburgh Airbnb and apartment rental scene is small but growing, we have to admit that there are some pretty amazing properties in the region you may want to check out.
After looking through many of the properties listed on the service, we found a few pretty amazing options located in (or quite close) to the city that we absolutely had to share today. So if you're looking for a getaway with Airbnbs in Pittsburgh, you may want to put these options on your radar.
If you're looking for more information on the best neighborhoods to stay in and questions to ask your host, be sure to scroll to the end of this guide for detailed information as well (or click here to jump to it)!
Disclaimers: All images are credited to the respective booking platform (Airbnb/VRBO) and hosts. While we are frequent customers of these services, we have not personally stayed in the below properties. We reviewed many of the apartment rentals in Pittsburgh for what we normally look for when traveling, and simply think these are quite unique, interesting, and in most cases also have fantastic locations such that we would likely inquire about them if we were travelers. These reasons will be highlighted below. Amenities may have changed since initial publication and should be confirmed prior to booking.
Pittsburgh Accommodation Map
Before jumping into our apartment rental list, if you are looking for live pricing of accommodations on services like VRBO, Booking.com, and more, check out the map below! This map is available at the end of all of our articles as well.
Pittsburgh's Own Tiny House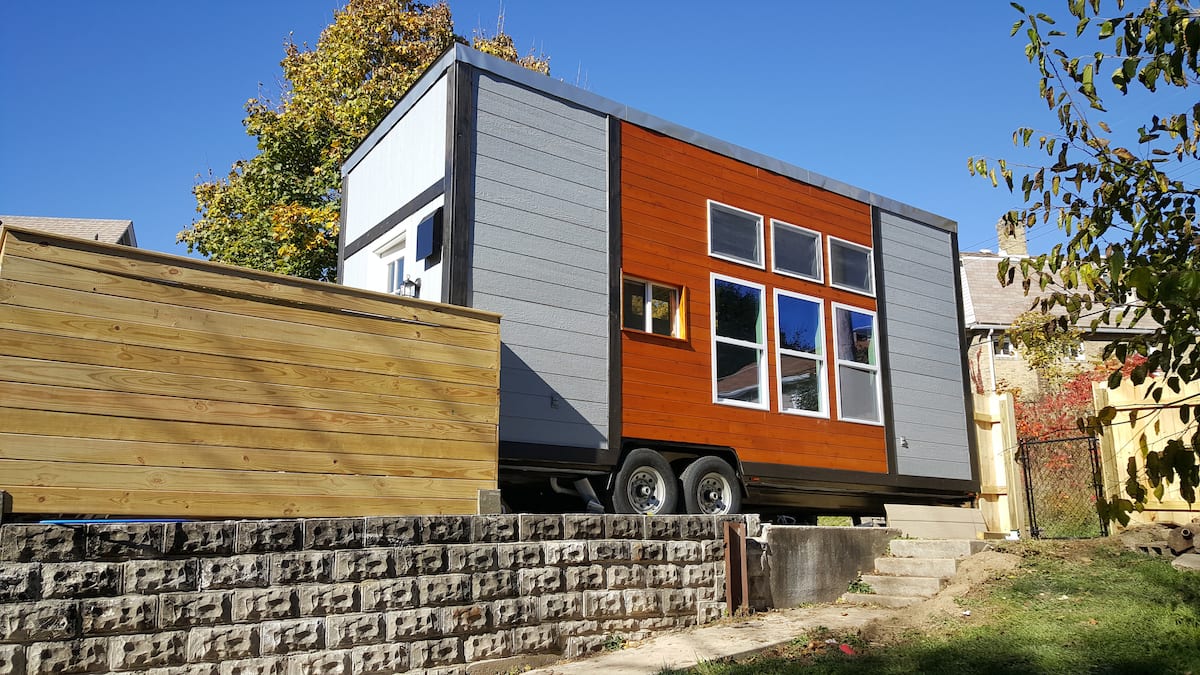 We love the tiny home movement, and one of the first tiny homes built in Pittsburgh proper is available for rent! This gorgeous property is located in the South Hills neighborhood of Beechview, has an array of amenities (no laundry), and perhaps most importantly is located just steps away from the T that would take you straight to downtown without your car.
So whether you're wanting to stay in an adorable tiny home or have access to the metro to get downtown and to the North Shore (and connecting up to our bus line to hit other neighborhoods), this rental is an enticing option!
Click here to check out more from the tiny house!
A Chic Loft in the Strip District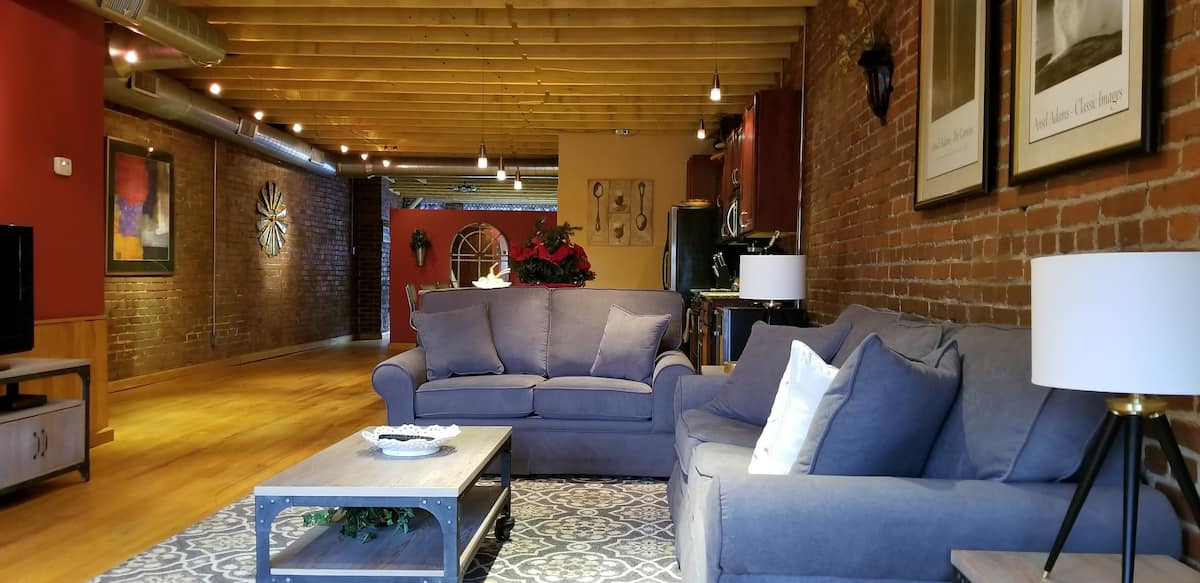 The Strip District is one of our favorite neighborhoods in Pittsburgh as it is home to many delicious restaurants, historic international markets and grocery stores, and many, many boutique shops. In recent years, many of the buildings have been also converted into loft-style housing, and in this rental you'll get just that.
A chic loft, free parking (a rarity in Pittsburgh), and being located right in the heart of one of the city's most vibrant neigborhoods? We're in.
Click here to check out more from this Strip District loft.
Artist House – Apartment Rental Near Acrisure Stadium
Wanting to stay at a rental with a story? Or perhaps you simply want a property with off-street parking near Acrisure Stadium? The PGH Artist Gallery rental is for you! This townhome is located just minutes (by foot) from the stadium and is packed full of amazing art from local artisans (and an audio guide to all the work with artist interviews) plus board games, a yoga mat, and so much more.
Beyond the ambiance in the house, the property is a short walk from the restaurants and breweries on Western Avenue and is a quick walk to the T station by the stadium to get you to downtown and the South Hills as well!
Click here to check out more from this beautiful North Side townhome.
Loft in Flashlight Factory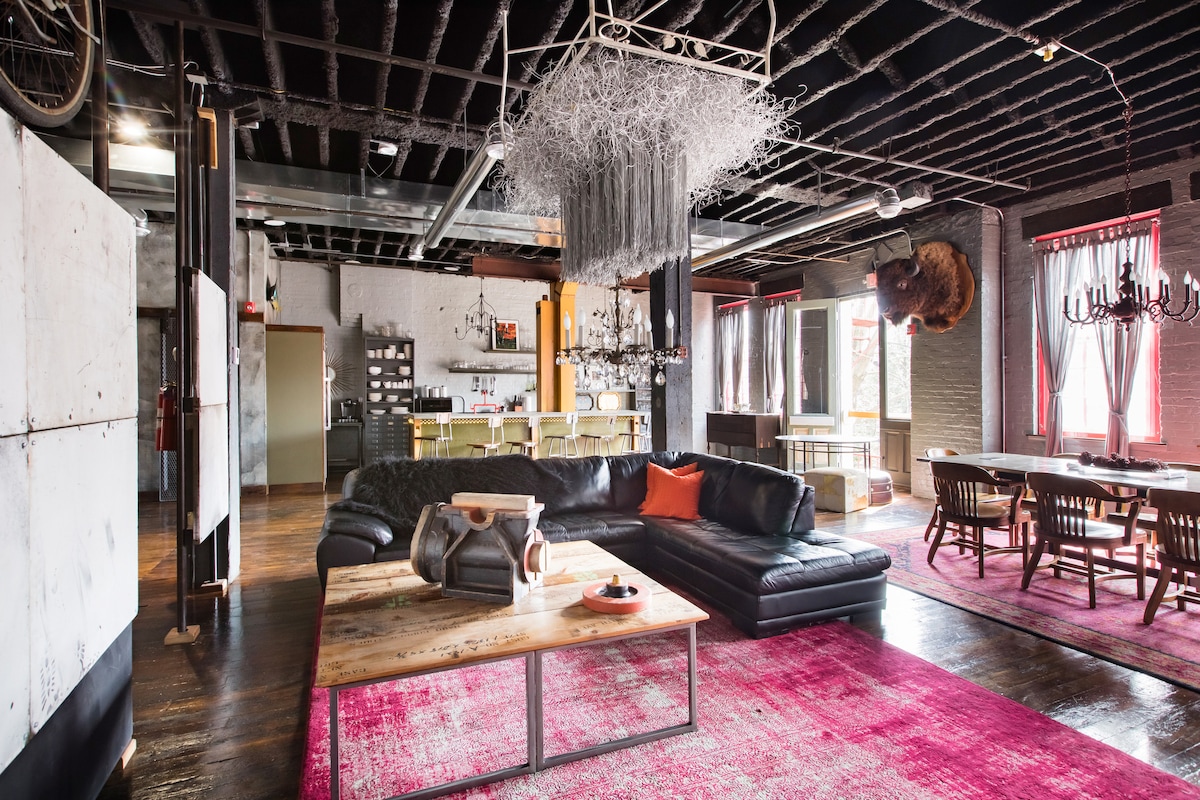 Pittsburgh is known in part for its industrial heritage, and this rental pays homage to that with a chic loft space in a former Flashlight Factory.
Apart from its ambiance, this space is located in Pittsburgh's historic North Side, just steps away from West Park, shops and restaurants on Western Avenue, and a brisk 1.5 mile walk to the heart of downtown Pittsburgh.
Click here to check out more from this chic loft.
City and Football Field View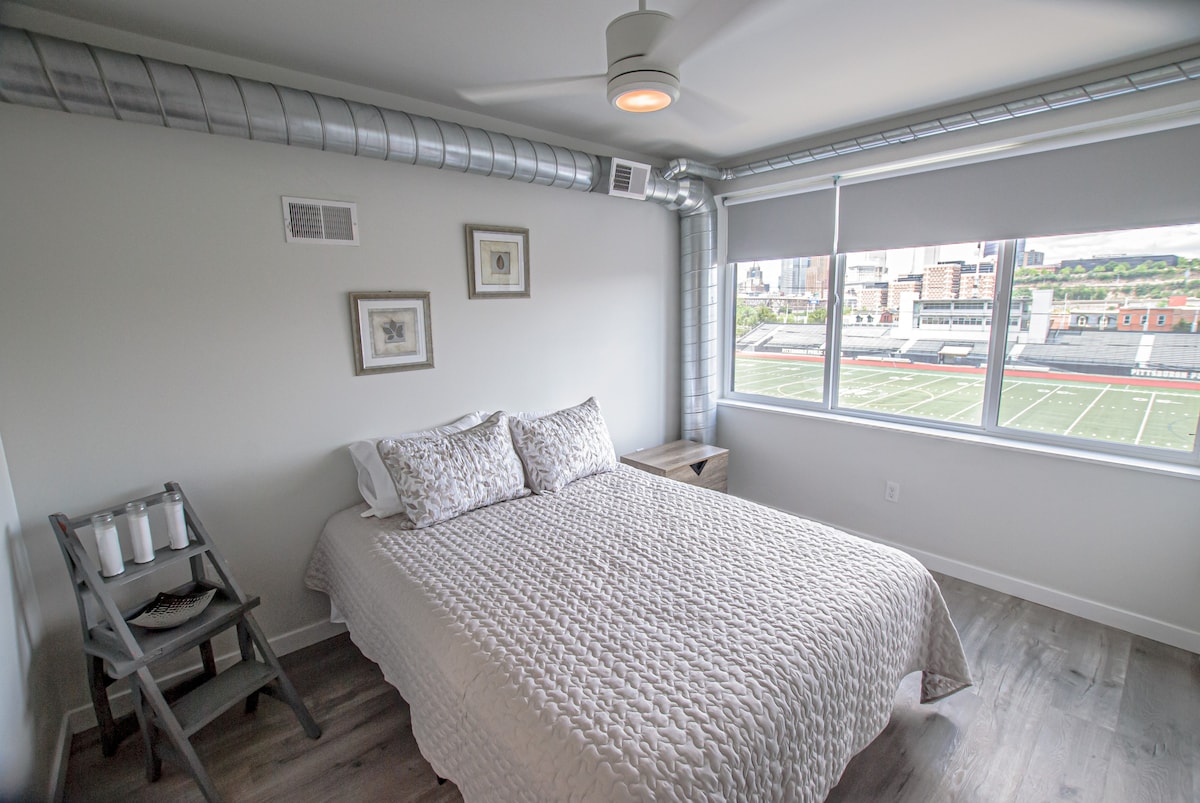 Want to stay a bit closer to South Side but still have a view of the city? This townhouse checks a number of boxes including modern amenities, room for ten, a rooftop deck, garage parking (a rarity in South Side), a birds-eye view of a local football field, and perhaps most important- an attractive price point.
Click here to check out more from this modern rental.
Rooftop Patio View
If a bit more privacy is what you seek, this Airbnb in South Side Slopes may be of interest to you. Located a bit further away from the bustle of Carson Street, this one comes with a lovely ambiance, a rooftop patio with a killer city view, enough room for 12, and a two-car garage!
Click here to check out more from this South Side Slopes gem.
Modern Apartment in Lawrenceville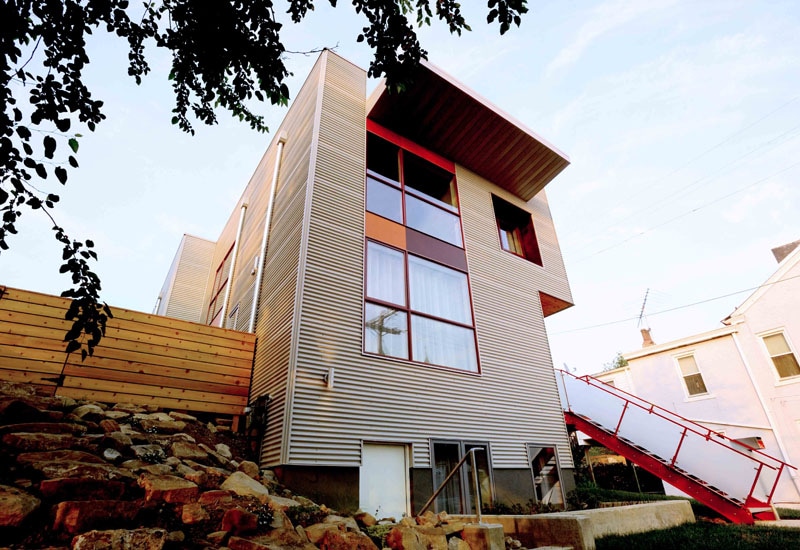 Lawrenceville has exploded as a trendy neighborhood in Pittsburgh thanks to its vibrant restaurant, bar, and brewery scene. Throw in the fact that it is only a quick, roughly 7-10 minute drive from downtown, a stone's throw from the Strip District, and more and you can see why it is on the radar of many visitors to the city.
This modern apartment rental couples a budget-friendly price with a stellar location just steps from the businesses of Butler Street.
Click here to check out more from this modern Lawrenceville rental.
A House Boat in Verona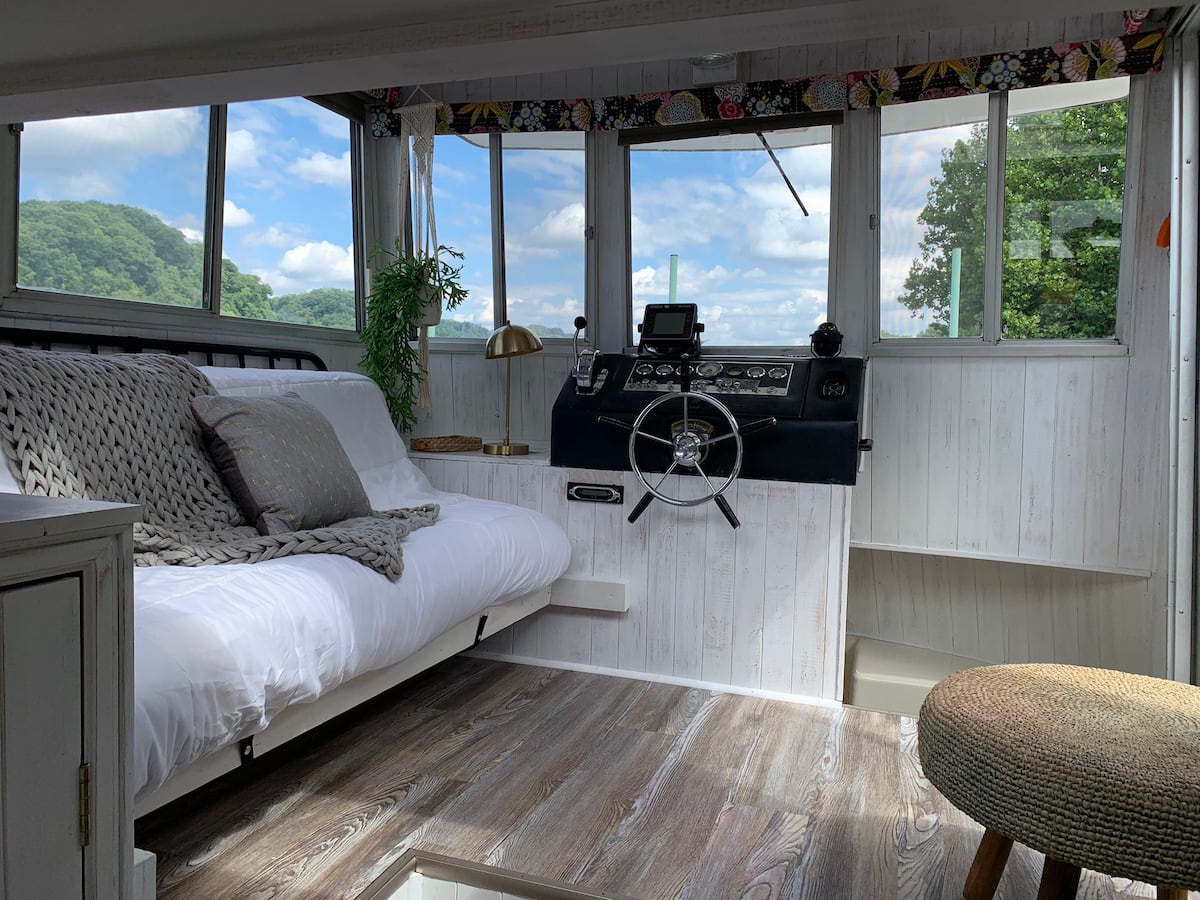 For our next few listings, we're heading outside of the city. First, we are taking you east to the borough of Verona- home to a gorgeous marina, shops, restaurants, and several breweries. Why do we head out of the city for this one? Well, because it is a houseboat, that's why!
While this boat is only available for docked stays, it does come with a complimentary kayak, canoes, or paddleboard rental with access to the beautiful Allegheny River. Then, after a long day of exploring the water, you can head over to Inner Groove Brewing for a beer just a few steps away (pending hours).
Click here to check out more from this beautiful houseboat.
Chalet Near a Vineyard
For our final two rentals, we're heading an hour southeast of Pittsburgh with a few rental options in the Laurel Highlands. Sure, not Pittsburgh proper, but one of our favorite getaways near the city to get out and explore all things nature.
To start, we have this beautiful chalet with hot tub in Chalk Hill. Not only does this one have a prime location just about 5 miles away from Ohiopyle, this one is set across the street from the acclaimed Christian Klay Winery, steps from Ridge Runner Distillery, and more.
Hard to say no having those amenities within walking distance!
Click here to check out more from this Laurel Highlands chalet.
Tree House in the Laurel Highlands
Finally, we end our guide with what is perhaps the most unique rental of all- a treehouse in the Laurel Highlands!
This secluded gem sleeps two in an elegant studio setting tucked away within the trees. Even better is that this one also has an onsite hot tub. Throw in a quick, 15 minute drive to Ohiopyle and you have the makings of a rather unique stay!
Click here to check out more from this treehouse.
Find Pittsburgh Rental Apartments by Location
Looking to find more rentals by neighborhood? Check out options in some of the most popular neighborhoods of Pittsburgh below and brief notes on why you may want to stay in each. To check options, click the neighborhood name. We also have a map of live pricing featured at the end of this guide as well.
Questions to Ask Your Host About Vacation Rentals in Pittsburgh
One of the things we learned rather quickly with this service when traveling was what questions to ask our host ahead of time. We often tailor our questions specifically based on what we know about the city, and in Pittsburgh there are several key ones you may need to ask depending on your situation and the rental type you book (plus others that are just good practice no matter where you go):
What kind of parking is available?
Is the parking by permit or are there other restrictions (like street cleaning on select days of the month)?
Do you live on premises or, if not, do you live nearby?
Will you be available when I arrive or is there an automated entry system?
In either case, what is the arrival process?
Do you have any recommended directions to reach the unit from [insert highway you are coming in on here]?
As navigating around Pittsburgh is often one of the biggest frustrations for any visit, it is best to be clear on any question you have regarding transportation and arrival instructions in advance.
Trust us when we say that dealing with poor arrival instructions is the worst part of the service, and having issues in Pittsburgh will likely be even more frustrating than in most cities. But once you get over that hurdle, renting in the city should be a great experience!
Have you stayed in a unique rental apartment in Pittsburgh that you love? Comment below to share it!
Pittsburgh Discounts and Promotions
In the mood for a sale? Or perhaps you simply want to try out something new? Check out our latest Pittsburgh promotions below!
Get 10% off clothing from Steel City using code: DISCOVERTHEBURGH
Take $25 off your first food box from
Harvie
on us!
Are you a local business that would like featured? Click here!