Last Updated on November 8, 2021 by Angie
Disclaimer: Our site uses demographic data, email opt-ins, display advertising, and affiliate links. Please check out our Terms and Conditions. Pricing, operating hours, or menus may have changed since our initial visit and may not be reflected in subsequent updates. Please confirm these directly with any business or attraction prior to visiting.
Whether you're a Pittsburgh sports fanatic, a Pitt Panther, a lifelong Yinzer, or are new to the city but have fallen in love with it, there's a Christmas ornament out there for you.
We've been looking for the best Pittsburgh Christmas ornaments, and we're here to help you with your holiday shopping with a list of some of our favorites found on Etsy!
Cut Steel Ornaments
Artist Audra Azoury makes beautiful stainless steel ornaments in various Pittsburgh themes. Some are classic, some are funny, and others a yearly specific (like 2019's bus in a pothole incident). It should be no surprise we pick one up from her every year!
Pierogi Ornaments
Who doesn't love a good pierogi? These super cute pierogi ornaments are complete with facial expressions and black and gold hats. You can pick your favorite face style, and there's even an option to get it as a "takeout" pierogi in a little basket!
Pittsburgh Parking Chair Ornament
The Pittsburgh parking chair: either you love it or you hate it! This ornament is the perfect gift for those who use them religiously, or a great joke gift for someone who hates them!
Yinzer Ornaments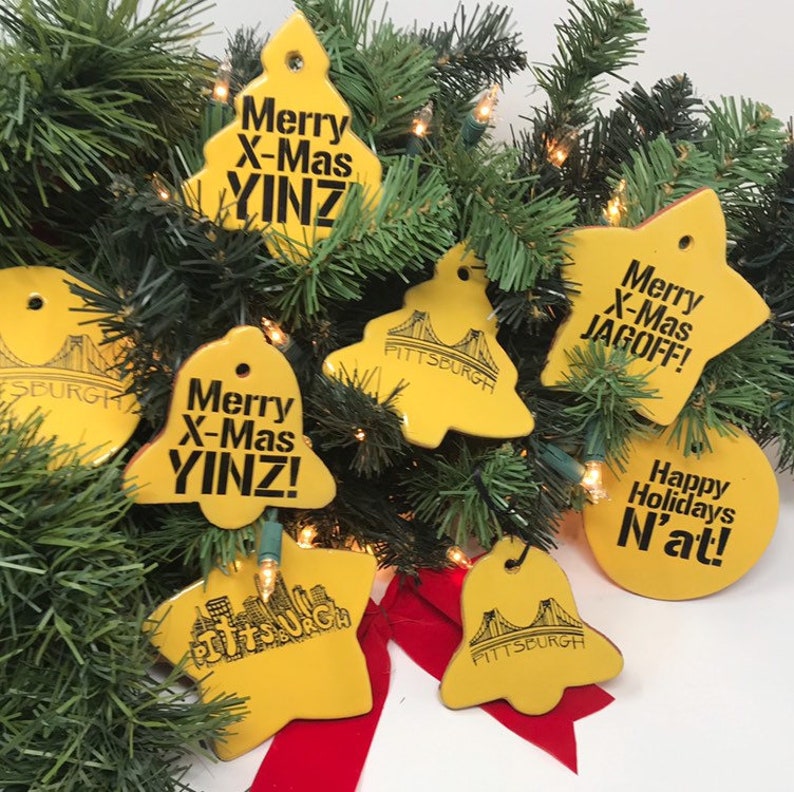 These handmade pottery ornaments are classic Pittsburgh with black and gold colors and great Pittsburghese sentiments like "Merry X-Mas Jagoff!" or "Happy Holidays N'at!" You can also choose from a number of Pittsburgh skyline or bridge designs.
Ceramic Pittsburgh Heart Ornament
This ceramic map ornament in the shape of a heart is completely customizable and would be a great gift for any Pittsburgher.
Skyline Image Ornament
Put Pittsburgh's iconic skyline on your tree this Christmas with this beautiful photo ornament from the West End Overlook!
Wood Cut Skyline Ornament
For a classic ornament that any Pittsburgher would love, try this one that's made out of wood that's laser cut with the Pittsburgh skyline.
Know of a great Pittsburgh ornament we're missing? Comment below to let us know about it to feature in this list!
All images sourced via Etsy. We are not Etsy affiliates and are not associated with any artisan featured in this guide.
Looking for Christmas in Pittsburgh activities? Click the previous link for some of our favorites!
Pittsburgh Discounts and Promotions
In the mood for a sale? Or perhaps you simply want to try out something new? Check out our latest Pittsburgh promotions below!
Get 10% off clothing from Steel City using code: DISCOVERTHEBURGH
Go on a day tour in Pittsburgh with one of the many options at
Viator
!
Take 10% off orders from Strip District-based Colombino using code: DISCOVERTHEBURGH
Order a local food box from
Harvie
and take $25 off your first order on us!
Are you a local business that would like featured? Get in touch here!